206 Newport Road,
Cardiff, Wales, UK, CF24 – 1DL.
theosophycardiff@uwclub.net
George Sidney Arundale
George S Arundale
1878 -1945
GEORGE SIDNEY ARUNDALE was born on 1st December 1878. At the death in child-birth of his mother he was adopted by his aunt, Miss Francesca Arundale, who joined the Society in 1881 and often welcomed H. P. B. as her guest, whom the small George himself knew. He was educated partly in Germany and England, and in 1900 graduated from St. John's College, Cambridge.
Two years later, at Dr. Besant's invitation, he went to India - with his aunt - to become Professor of History at the Central Hindu College, Benares. In 1907 he was appointed Headmaster of the C. H. College School and later Principal of the College. He was very popular with both boys and teachers. He had a great understanding of youth, with whose welfare he concerned himself all his life.
In 1910 Mr. Arundale gave his first Annual Convention lectures, and frequently addressed these Conventions throughout his life. In the same year he made public the already privately formed Order of the Star in the East, which was intended to help the future work of J. Krishnamurti. As this Order was started among the boys of the C. H. College it caused a commotion among some of the College authorities. Mr. Arundale and the teachers who stood by him resigned.
After a brief period as General Secretary in England Mr. Arundale went back to India to assist Dr. Besant in her urgent political activities. Under Theosophical auspices a National University was established in Madras, of which Rabindranath Tagore became the Chancellor. Mr. Arundale became Principal of the Training College for Teacher. He stimulated education and was outstanding for the manner in which he inspired teachers and gave them the conception of teaching as a sacred profession.
He went to Indore as Minister of Education. The National University bestowed upon him the degree of D. Litt. Mr. Arundale married in 1920 Srimati Rukmini Devi, a member of a very well-known Theosophical Brahmin family, and a gifted artist, whose genius Dr. Arundale fostered in every way. She accompanied him on all his travels. She was 16 at the time of her marriage.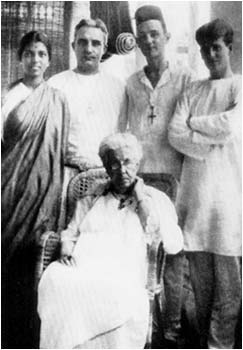 Rukmini Devi Arundale standing next
to George Arundale with Annie Besant seated.
George and Rukmini Devi Arundale visit
Cardiff Theosophical Society in 1924
He became General Secretary in Australia, 1926, where, in addition to his Theosophical duties, he engaged in humanitarian and political work. He helped to set up the 2GB Broadcasting Station and became its first Chairman of Directors. He lived at The Manor and assisted Bishop Leadbeater in preparing it for its important future.
 In 1928, Dr. Arundale was General Secretary in India, but he did not ask for re-election as he desired to help Dr. Besant in her political and other work. He undertook many tours about the world with Srimati Rukmini Devi who began to give her own interpretation of Theosophy through Beauty.
In 1934 Dr. Arundale was elected President and began at once to develop a Seven Year Plan, which included development of Adyar, and stimulus to the Society. The next year he launched a "Straight Theosophy" Campaign, with well-prepared publicity material, which culminated in the brilliant Diamond Jubilee Convention at Adyar.
The next Campaign was entitled "There Is a Plan". In 1936 he presided over a World Congress at Geneva, when he decided the third Campaign should be for "Understanding", which, proving successful, was extended into 1938. After that "Theosophy Is the Next Step" was the subject, but in 1939 war broke out and not much could be done. He then issued "Letters" to Sections which were widely used and helpful.
In 1940 Dr. Arundale set up a Peace and Reconstruction Department so as to have ready a Charter for World Peace when the War had ceased. Each year he stressed that members should be ardent in "spreading the mighty Truths of Theosophy". Though suffering from ill-health, yet he undertook tours in India, and backed with personal attention and enthusiasm the institutions and activities undertaken by Srimati Rukmini Devi. Dr. Arundale died in 1945.
As Dr. Arundale had always been so interested in Youth, he gave much assistance in the formation of the "World Federation of Young Theosophists", 1935, with Srimati Rukmini Devi as President and himself as ex officio Hon. President. Dr. Besant had cherished a longing that there should be a school near at hand in memory of her love for Youth. The beginnings of such an institution were started by Dr. Arundale in 1934 at Besant Gardens as the Besant Memorial School. It has flourished.
As a Co-Freemason, joining in 1902, he became in 1935, the Most Puissant Grand Commander, Eastern Federation, and Representative of the Supreme Council. In addition he was deeply interested in internationalism, Indian politics and Indian Boy Scouts, and became the Commissioner for Madras Presidency of the Hindustan Scout Movement. Dr. Arundale wrote many books, the most liked being You, Mount Everest, Nirvana, Kundalini and The Lotus Fire.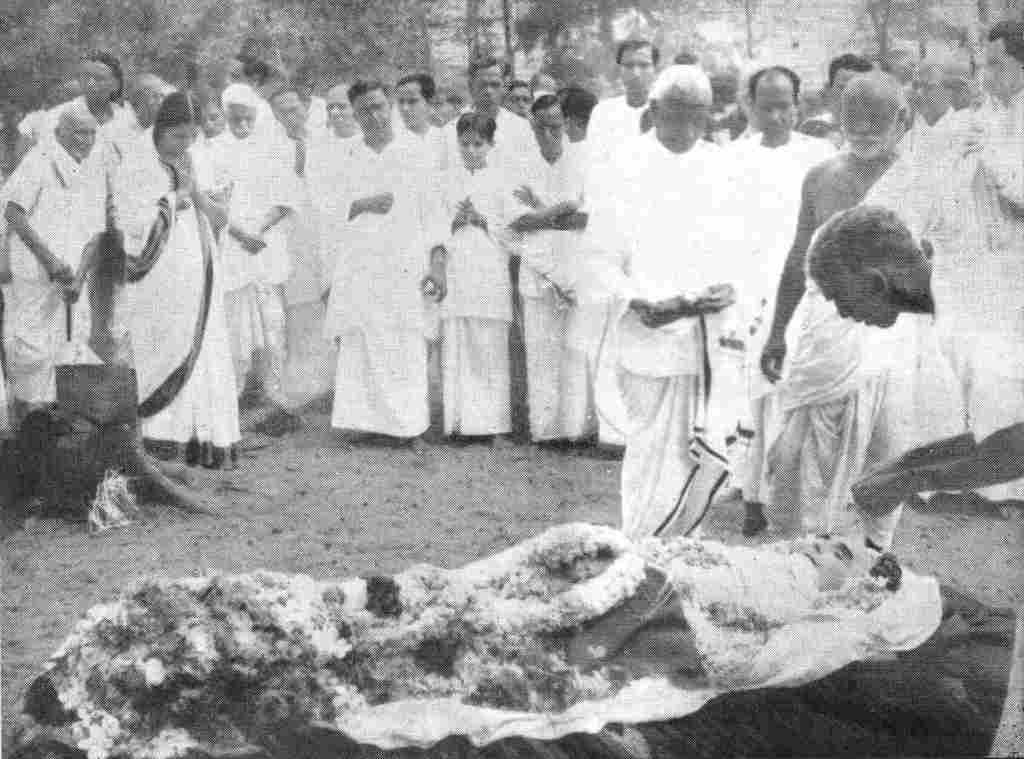 The Funeral of Dr George S Arundale at the
Adyar Garden of Remembrance in 1945
Writings by
George S Arundale
A Study in Synthetic Consciousness
__________________
History of the Theosophical Society
Theosophical Society Cardiff Lodge
Dave's Streetwise Theosophy Boards
The Theosophy Website that welcomes Absolute Beginners
206 Newport Road,
Cardiff, Wales, UK, CF24 – 1DL.
For more info on Theosophy
Try these
Cardiff Theosophical Society meetings are informal
and there's always a cup of tea afterwards
The Cardiff Theosophical Society Website
The National Wales Theosophy Website
Dave's Streetwise Theosophy Boards
If you run a Theosophy Group then please
Feel free to use any material on this Website
Theosophy Cardiff's Instant Guide to Theosophy
Cardiff Theosophical Order of Service (TOS)
Within the British Isles, The Adyar Theosophical Society has Groups in;
Bangor*Basingstoke*Billericay*Birmingham*Blackburn*Bolton*Bournemouth
Bradford*Bristol*Camberley*Cardiff*Chester*Conwy*Coventry*Dundee*Edinburgh
Folkstone*Glasgow*Grimsby*Inverness*Isle of Man*Lancaster*Leeds*Leicester
Letchworth*London*Manchester*Merseyside*Middlesborough*Newcastle upon Tyne
North Devon*Northampton*Northern Ireland*Norwich*Nottingham
Perth*Republic of Ireland*Sidmouth*Southport*Sussex*Swansea*Torbay
Tunbridge Wells*Wallasey*Warrington*Wembley*Winchester*Worthing
One Liners & Quick Explanations
The main criteria for the inclusion of
links on this site is that they are have some
relationship (however tenuous) to Theosophy
and are lightweight, amusing or entertaining.
Topics include Quantum Theory and Socks,
Dick Dastardly and Legendary Blues Singers.
No Aardvarks were harmed in the
Includes stuff about Marlon Brando, Old cars, 
Odeon Cinema Burnley, Heavy Metal, Wales, 
Cups of Tea, Mrs Trellis of North Wales.
Cardiff Theosophical Order of Service
General pages about Wales, Welsh History
and The History of Theosophy in Wales
Her Teachers Morya & Koot Hoomi
The Most Basic Theosophy Website in the Universe
If you run a Theosophy Group you can use
this as an introductory handout
Lentil burgers, a thousand press ups before breakfast and
the daily 25 mile run may put it off for a while but death
seems to get most of us in the end. We are pleased to
present for your consideration, a definitive work on the
subject by a Student of Katherine Tingley entitled
For everyone everywhere, not just in Wales
Theosophy and the Number Seven
A selection of articles relating to the esoteric
significance of the Number 7 in Theosophy
The Spiritual Home of Urban Theosophy
The Earth Base for Evolutionary Theosophy
Quick Explanations with Links to More Detailed Info
What is Theosophy ?  Theosophy Defined (More Detail)
Three Fundamental Propositions  Key Concepts of Theosophy
Cosmogenesis  Anthropogenesis  Root Races
Ascended Masters  After Death States
The Seven Principles of Man  Karma
Reincarnation   Helena Petrovna Blavatsky
Colonel Henry Steel Olcott  William Quan Judge
The Start of the Theosophical Society
History of the Theosophical Society
Theosophical Society Presidents
History of the Theosophical Society in Wales
The Three Objectives of the Theosophical Society
Explanation of the Theosophical Society Emblem
The Theosophical Order of Service (TOS)
Glossaries of Theosophical Terms
An Outline of Theosophy
Charles Webster Leadbeater
Theosophy - What it is    How is it Known?
The Method of Observation   General Principles
Advantage Gained from this Knowledge
The Deity  The Divine Scheme  The Constitution of Man
The True Man   Reincarnation   The Wider Outlook
Death   Man's Past and Future   Cause and Effect
Classic Introductory Theosophy Text
A Text Book of Theosophy By C W Leadbeater
What Theosophy Is  From the Absolute to Man
The Formation of a Solar System  The Evolution of Life
The Constitution of Man  After Death  Reincarnation
The Purpose of Life  The Planetary Chains
The Result of Theosophical Study
Writings of Ernest Egerton Wood
Theosophy and the Number Seven
A selection of articles relating to the esoteric
significance of the Number 7 in Theosophy
Karma  Fundamental Principles  Laws: Natural and Man-Made
The Law of Laws  The Eternal Now  Succession  Causation
The Laws of Nature  A Lesson of The Law  Karma Does Not Crush
Apply This Law  Man in The Three Worlds  Understand The Truth
Man and His Surroundings  The Three Fates  The Pair of Triplets
Thought, The Builder  Practical Meditation  Will and Desire
The Mastery of Desire  Two Other Points  The Third Thread
Perfect Justice  Our Environment  Our Kith and Kin  Our Nation
The Light for a Good Man  Knowledge of Law  The Opposing Schools
The More Modern View  Self-Examination  Out of the Past
Old Friendships  We Grow By Giving  Collective Karma  Family Karma
National Karma  India's Karma  National Disasters 
Annotated Edition Published 1885
Preface to the Annotated Edition  Preface to the Original Edition
Esoteric Teachers  The Constitution of Man  The Planetary Chain
The World Periods  Devachan  Kama Loca
The Human Tide-Wave  The Progress of Humanity
Buddha  Nirvana  The Universe  The Doctrine Reviewed
Try these if you are looking for a
local Theosophy Group or Centre
UK Listing of Theosophical Groups
Worldwide Directory of Theosophical Links

General pages about Wales, Welsh History
and The History of Theosophy in Wales
Wales is a Principality within the United Kingdom
and has an eastern border with England.
The land area is just over 8,000 square miles.
Snowdon in North Wales is the highest mountain at 3,650 feet.
The coastline is almost 750 miles long.
The population of Wales as at the 2001 census is 2,946,200.